Tel: 021 510 7759 Fax: 086 410 1691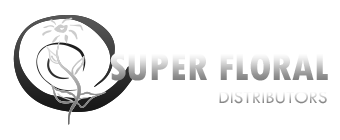 Get in Touch:
Tel: 021 510 7759
Fax: 086 410 1691
About Super Floral
Super Floral Distributors was established in 1990 in Johannesburg. In 2000 - the turn of the millennium - this small family business grew and ventured out to Cape Town.

Super Floral Distributors are proud importers and leading distributors of floral, craft and decor accessories, which include a wide variety of baskets, pottery, glassware, wedding accessories, party decor, fancy ribbons, cellophane, galvanised products, silk and dried flowers... the list is endless!

Our inspiration and passion has always been our customers, of which relationships have been built and due to recommendations, our client base grows daily. We have built a reputation over the past years to supply everything you require for that special day, party or corporate function.

Come visit our warehouse. We assure you of our continued commitment, providing you with competitive prices, great quality and dependability.


You have heard of us because we Supply and Distribute:
Floral Accessories & Decorations for Valentines Day, Christmas, Easter, Birthday Parties, Other Parties, Weddings... and more. We supply lights, pottery, ribbon, wire, feathers, catering, candles, rope, stone, gift bags, plastic products, seashells, teddies, glassware, candelabra, baskets, artist and craftsman accessories, wood container boxes, accessory tools, tapes & adhesives, synthetic fruit, party novelties, magazines & books, floral foam products, cellophane, tissue paper, corsage products, corsage Pins, dries & decor, fabrics, materials, flower food, flower care products, flower sleeves, flower holders, metal & zinc, miscellaneous party accessories, packaging, packaging accessories, twine, cords, serviettes, napkins, silk flowers, silk trees, spray paints, nuggets, and mosses in Cape Town and Johannesburg.
Please Note that we offer up to 30% wholesale discount to traders
Terms and Conditions apply